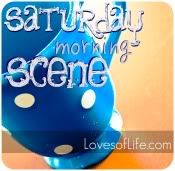 So, I may have started my Saturday morning realizing that Little O was no longer sleeping across my shins. We were rudely awakened at about 3am by a Monster that wanted Mommy and Daddy. About an hour later (read: 4am) he had a night terror. I HATE when he gets them because, even though "they" say never to wake someone in a night terror, I always want to. Once I was able to calm him I passed right back out so I awoke from a dead sleep at 8am to the sound of my truck being locked and locked and locked.
A Monster has my keys.
I trudge downstairs and begin to sloppily make a strawberry banana smoothie for the Monster.
I turn to the sink, see this, and groooan...
If I drank coffee this would be when I wanted it.
Welcome Saturday morning...
Dishes first.
Smoothie second.
Diaper change.
Lay out everything for D's french toast breakfast.
Check my email.
Check Facebook.
Log into my blog.
Check on the Monster...
Take a shower.
Eat a piece of cheese and toast.
Bribe myself into going to work by promising self a nap later.
Clean the stove top.
Check the garden.
Try to find something to wear in 110 heat that doesn't scream hooker.
Pick up several baskets of books strewn on the floor.
Consider doing hair.
Put hair in pony-tail.
Wonder why there is a jar of peanut butter in the bathroom closet.
fold towels.
Consider dressing the Monster but it's already 95 (and I don't run the a/c).
Check on the Monster...
This blog brought to you by Despicable Me.
Thank you Pixar for allowing to be productive on a Saturday morning.